Blairsville Farmers Market: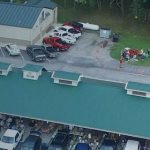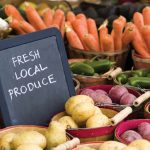 Just about my favorite place to be on a early Saturday morning in the late spring and summer. This Farmers market has just about all you want. Fresh locally grown organic vegetables, homemade baked goods, beautiful flowers and plants down to locally raised eggs, beef and lamb. It has it all, but get there early before it's all gone.
Blairsville County Historic Courthouse: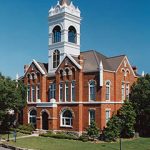 Built in 1899 this prominent courthouse sits in the center of downtown Blairsville surrounded by wonderful shops and restaurants. The courthouse suffered years of neglect and was in disrepair from the 1920's. It was condemned in the 1970's but was saved from demolition by the Union County Historical Society. Since then it has been restored and maintained by the Union County Historical Society along with several other preservation projects and is now on the National Register of Historic Places.
Lake Nottley: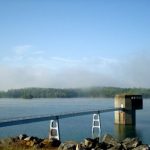 The dam is 197 feet high and stretches 3,915 feet across the Nottely River. … In a year with normal rainfall, the water level in Nottely Reservoir varies about 20 feet from summer to winter to provide seasonal flood storage. The reservoir has a flood-storage capacity of 61,600 acre-feet. There are many available boat rentals for folks to get out and explore the lake.
Helton Creek Falls:
From the small parking lot on Helton Creek Road head to the right to find the trailhead, marked by a simple sign and arrow. This trail descends quickly to a mountain cove fed by Helton Creek rich with moisture-loving plant life. These wide falls wash over a ledge before cascading down an easy slope about 30 feet into a small pool below the falls with a roar that can be heard almost to the road.
The Reece Farm: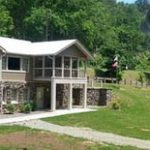 Experience early 20th century Appalachian farm life! Petting farm, fruit and vegetable production, restored barns, corn crib, chicken house, smokehouse, spring house. The Reece Farm is located at 8552 Gainesville Highway, Blairsville, GA (706) 745-2034
---
Vogel State Park: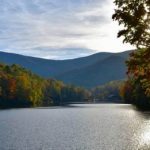 Vogel State Park is a 233-acre state park located at the base of Blood Mountain in the Chattahoochee National Forest. It became one of the first two parks in Georgia when it founded a state park system in 1931. Much of the park was constructed by the Civilian Conservation. In the years since the park's creation, Vogel State Park has been one of the most popular destinations for camper s and hikers in the state. Today, visitors can swim, boat, and fish in Lake Trahlyta, and they can also enjoy camping and cottage stays, viewing waterfalls, hiking trails, playing.